---
Eventos em Aberto: Início a partir de 18/07/2023
Special Talk with Kristen Ritter: living abroad and international experience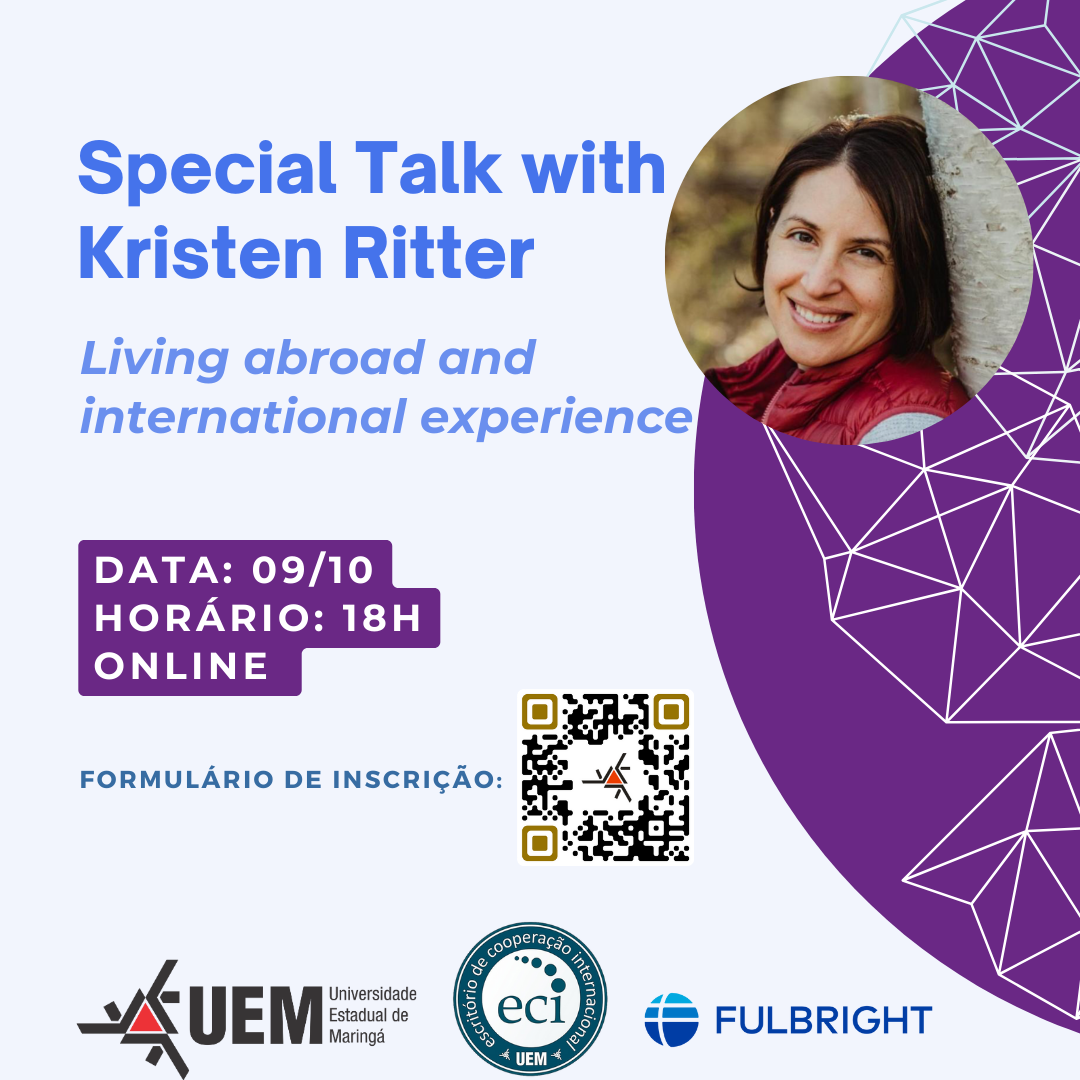 Special Talk with Kristen Ritter 09/10/2023
In this presentation, Fulbright Fellow Kristen Ritter will share some of her personal experiences living abroad, attributes that helped her enjoy the experience, strategies for success, advice for students interested in planning their own live abroad experiences, and a brief overview of the Fulbright FLTA Program available to Brazilian students specifically interested in living in the United States. Come with any questions you may have!
English Clubs with Kristen Ritter
Each week participants will receive a short story to read in English. When we meet, we will discuss the story, not only in terms of meaning and significance, but with an eye to craft and the techniques of writing fiction. The short stories will range broadly in genre across realism, science fiction, fantasy, comedy, and magical realism, among others, and prioritize marginalized writers and underrepresented perspectives. Perfect for students who want to learn to write fiction by studying the short story, as well as anyone who just wants to improve their English and loves to read!
A club for all levels of English speakers. Each week we will center our discussion around a new topic and explore the English language in a relaxed environment. Weekly topics may include health, hobbies, cultural differences, philosophy, favorite movies, or another suggested topic. Whether you are an advanced English speaker, or just beginning to learn the language and have many questions, everyone is welcome to join us!
---
Eventos já realizados
Developing Oral Skills: Telling Your Story
Students will learn how to mine their memories for formative stories they want to share with the world. We will go over the fundamentals of writing true, first-person stories and brainstorm together. By the end of the workshop, paricipants will share aloud a 4-5 minute story about a place, relationship, experience or idea that matters to them, and will be given the opportunity to record their stories.
Developing Oral Skills: Making a Persuasive Argument
Participants will learn strategies such as critical thinking, media analysis, media literacy, and online research in order to create and deliver a strong persuasive argument. We will watch videos and read essays to study how others create meaningful sociological arguments. Recommended for students with intermediate to advanced English skills.
Planning and Drafting: Short Story
Before beginning to write a short story, many writers must spend time setting themselves up for success. This includes organizing their time, building strong habits, and planning out aspects of their story in advance. Together in class we will go through a series of exercises to envision the world, characters, central conflict, stakes, goal, logline, theme, and beats of your story. Thursdays will be reserved for in-class writing and I will be available to answer any questions as they arise during the drafting process. By the end of the class, students will have a strong outline and the tools they need to complete a short story.
Talk series on Internationalization of Education, realizada pela assistente de ensino Taylor Spratt (Florida International University, EUA)
Talk series on Special Education

Day 1 | Temas abordados: "Overview of the U.S. system of special education" e "Differences and similarities between special education in Brazil and in the U.S.".

Apresentação realizada pela assistente de ensino Tera Warn (Wayne State University, EUA) e pela Prof.ª Dr.ª Celma Rodrigueiro (PROPAE/UEM).

Day 2 | Tópicos abordados:"Cognitive Disorders", "Best Practices", "Classroom interventions" e "Case examples".

Apresentação realizada pela assistente de ensino Tera Warn (Wayne State University, EUA) e pelo Prof. Dr. Elerson Cestaro Remundini (ILG/UEM).

Day 3 | Apresentação e discussão sobre necessidades sociais, emocionais e comportamentais, seus efeitos nos estudantes, boas práticas e exemplos de casos.

Apresentação realizada pela assistente de ensino Tera Warn (Wayne State University, EUA).
---
Atendimento do Setor de Internacionalização em Casa
Contato: Este endereço de email está sendo protegido de spambots. Você precisa do JavaScript ativado para vê-lo. ou Este endereço de email está sendo protegido de spambots. Você precisa do JavaScript ativado para vê-lo.
Telefone: +55 44 3011-4441